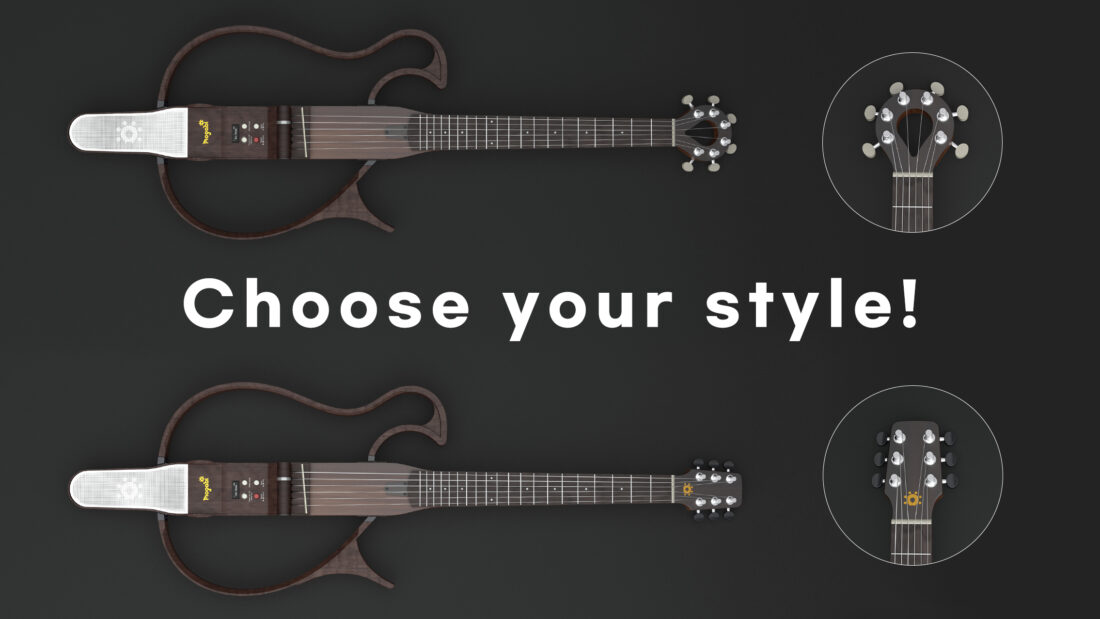 The World's First travel guitar-Mogabi with a foldable body launched on the American crowdfunding platform Kickstarter in February. Its round head and foldable body are exceptional designs, different from any other normal guitar.
MOGABI AMT INC.'s marketing team said, "The current design came out after tons of tryouts and tests". Mogabi guitar is a bit different because it has a round head, unlike other guitars. That is why it is shorter and more compact, you can even hang the guitar on the wall using the whole. By using the hinge on the side, you can also fold, unfold, and lock the body by pressing on the end of the hinge. In addition, rest frames were made to provide a stable posture while you are playing. Make sure that the curved horn-shaped part faces the guitar's head and attach the frames to the body. The mahogany neck and rosewood board provide a feeling of warmth, and Mogabi's saddles and nuts, made from ox bones, make a solid and clear sound.
Mogabi is a smart guitar because it has various functions such as original/multiple recording and multi-playing, Record Cancellation, and Bluetooth Pairing.
Mogabi enables a user to only record his or her playing excluding any other noises. You don't even need an extra microphone or recording device, which is very attractive to many players. While recording, you can always press on the 3rd nob, which will delete any unwanted files right away. Also, 32GB internal memory is built-in Mogabi, which enables storing hundreds of songs. You can copy, share, and even edit your recorded songs by connecting the guitar to your smart devices like a PC or a smartphone.
There are several modes on Mogabi guitar. GTR Mode allows you to freely play and record. Bluetooth Mode enables you to pair the guitar with your devices for listening to music. Mix Mode is a combined version of those two, which allows you to play and record with MR with pairing. Press the Power button one more time, and it will switch to Sleep Mode. This mode is good for saving battery and playing or recording quietly. Mogabi's battery is a 2600mA lithium-ion battery, which can be fully charged within three hours and used for 6 straight hours. It is the perfect guitar for street performances for a long time. 
If you look at Mogabi, it doesn't have any soundbox, so you might not be sure if it will resonate properly. However, Mogabi is still able to make a stable and strong sound because of its 40mm full-range speakers. The sound is powerful enough for busking with any amplifier.
Mogabi also has its own app which provides different functions such as download, mixing, editing, tuning, and others. Music cloud is provided, so you share your playing with people all over the world and even do ensemble with them.
All guitars' heads and strings are parts that should be protected. Mogabi has a headcover that does the job, which also keeps them very clean. When you put the guitar into a traveling bag, the cover also preserves the head and strings from other things.